World Wide Iwamoto Awards
International Contest of Go promotional plans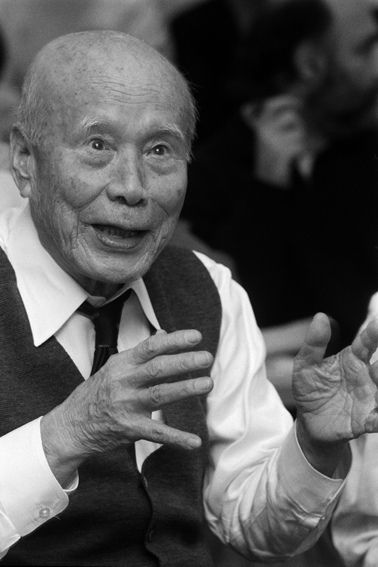 The World Wide Iwamoto Awards is named after Iwamoto Kaoru who lived from 1902 until 1999. He became a professional Go player in 1918 and retired in 1985. He was one of the strongest nine dans of his days. His main achievement on the go board was winning the Honinbo title in 1947 and 1948. He will also be remembered far into the 21st century because of his dedication to the international promotion of Go. Already in the 1920's, he was active in Brasil. From the 1960's until 1996 he frequently travelled overseas to teach and promote Go. Iwamoto sensei was an inspired teacher. His insights into the many complex aspects of the game astonished everybody. His book Go for beginners has been translated into several languages. After his retirement, he realised his dream of establishing continental Go centres in South America (Sao Paolo), North America (Seattle and New York) and Europe (Amstelveen). Recently the New York Go Centre was sold and with the revenue, the Iwamoto North America Foundation (INAF) was made possible by Iwamoto Kaoru.
The main reason for this contest is to follow Iwamoto Kaoru's wish of spreading Go around the world. First of all, it motivates Go players to think about how Go could be promoted. Secondly, through the gathering and exchange of ideas, it can lead to a higher quality of popularization of Go all over the world.
The contest has been organized in Europe in 2001, 2003 and 2007 and 2012.
We expanded to a global level with the 5th edition, that took place in 2015. We believe that promoting Go knows no boundaries and everybody should be able to learn about everything that already has been done and tried to spread Go.
Our goal is to publish all promotional plans in one searchable database, so that go promoters can find best practices, ideas, and inspiration for their projects but also discuss each other's ideas.