What is the EGCC?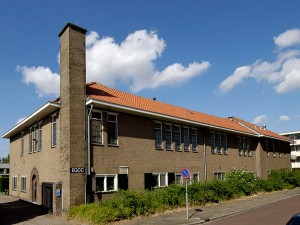 A Dream Come True
During his entire 70-year career as a successful Go professional and businessman, Mr Iwamoto Kaoru had never given up on his dream of spreading Go all around the world.
So in 1990, Mr Iwamoto retired from active life and sold his Go School in Tokyo. He then donated the proceeds to the Nihon Ki-in with the intention of starting Go centres on different continents. Iwamoto's dream was realized in Sao Paulo, New York and Seattle, as well as in Amstelveen, a suburb of Amsterdam.
At the age of 90, Mr Iwamoto came to Amsterdam to inspect the building. Instead of taking a taxi, he insisted on using public transport, saying: "I want to be sure that Go is easily accessible to everyone." So Mr Iwamoto came, he saw, and he approved! You can reach the building by bicycle, bus, car, tram or metro. By car, it takes just fifteen minutes from the international airport Schiphol and twenty minutes from the centre of Amsterdam. Furthermore, the building has excellent parking facilities.
The Obayashi Corporation took this former telephone agency and transformed the building into its currents state as a Go center. Mr Iwamoto and the mayor of Amstelveen officially opened the building on May 9th, 1992. The center has three large and one small hall divided over two floors. In addition, it has two bars, three offices, large underground storing spaces and parking facilities for more than 20 cars.
The heart of the building is formed by a very special room, a specially designed Japanese tatami room. It is called the Kunwa room, in honor of Mr Iwamoto who took the pseudonym "Kunwa" (薫和 - a fresh wind of peace and balance) after winning the Honinbo title in 1946.
The Go Centre is ideally suited for a wide range of activities. Three large halls can easily accommodate over two hundred people to play Go. The EGCC is equipped with high quality playing material (shell and slate stones, kaya and katsura go boards). The Kunwa room is used for important Go games and cultural activities.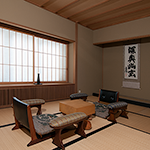 The Go Team of the Go Centre has set as its goal the realization of Iwamoto's dream. Because the building is quite spacious, the EGCC also houses the offices of the European Go Federation (EGF) and the Dutch Go Association (Nederlandse Go Bond).
In order for it to be self-supporting, the EGCC rents out halls for other purposes. Currently, many mind sports clubs (such as chess, checkers and bridge) meet at the Go centre. Moreover, the centre plays an important cultural role by hosting several Japanese cultural activities, including calligraphy, painting, singing, tea ceremony, and flower arrangement.