The Surrounding Game
Name:
The Surrounding Game
Contributor:
Cole D. Pruitt
Organisation:
Edition:
2015
Prize:
Encouragement Prize (2nd place)
Project Description
The Surrounding Game is a feature-length documentary film following top American players competing to be the first US pro, while tracing the history of the game in Asia and exploring the complexity of the game itself. We are currently in post-production and plan to complete the project in fall 2015 for screening at film festivals in spring 2016.
In 2012, we launched The Surrounding Game as a character-driven documentary to follow the birth of the American professional Go system at the US Go Congress in North Carolina. That summer, we ran a successful Kickstarter campaign raising over $25,000, allowing us to expand the scope of the project to a feature-length film. The following year, we filmed at many of the game's pre-eminent institutions, including the Yugen-no-ma and Go archives at the Nihon Ki-in in Japan, the semi-finals of the 2012 Ing Cup in China, and Choongam Baduk Academy, one of Korea's most prestigious Go schools. Our footage includes interviews with many of the world's greatest players, including Cho Hun-hyun 9p, Nie Weiping 9p, Lee Sedol 9p, Chang Hao 9p, Iyama Yuta 9p, Cho Hye-yeon 9p, Otake Hideo 9p, and Takemiya Masaki 9p. In the summer of 2013, we captured an intimate interview (and possibly the last footage ever recorded) of 99-year-old master Go Seigen, who passed away in 2014. Our afternoon with him is a central component of the film's story, which we hope will help preserve his legacy in the Go world for many years to come.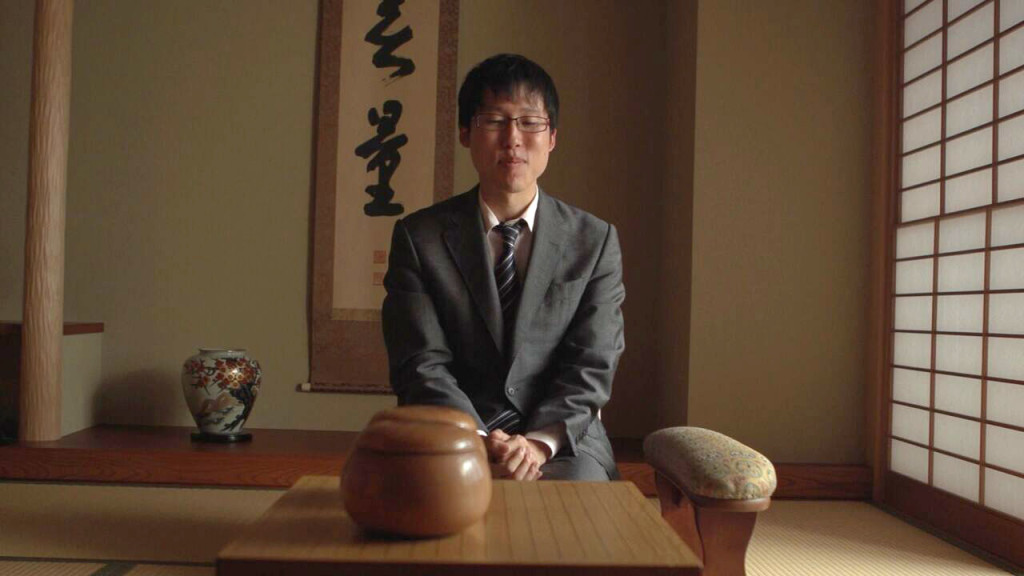 Since fall 2013, we have distilled our two hundred hours of footage into a 90-minute rough cut. The narrative follows two of the top young Go players in North America from the announcement of the American professional system, through the qualifiers, and into the inaugural professional tournament in Black Mountain, North Carolina in 2012. To understand the game and themselves, our characters seek out Go masters in Asia of the past and present to ask whether a life spent playing Go is worth living. We are on pace to reach a final cut by late summer 2015 and begin preparing for a film festival premiere in early 2016, followed by public release.
With funding from the Iwamoto Award, we want to create an online platform for digital distribution of the film to the public. This component of our website would allow anyone to purchase a high-definition, DRM-free, theatrical quality download of the documentary or a DVD with additional Go and interview material. As part of distribution, 5% of all proceeds from the film will be donated to the American Go Association (AGA). All Iwamoto Award funding would go directly toward web development implementing this idea, with remaining funds going toward professional translations of this webpage and the film itself into German, French, Russian, Spanish and Portuguese to target audiences in Europe, Russia, and Central/South America.
An example of our footage is featured in our 2013 extended trailer.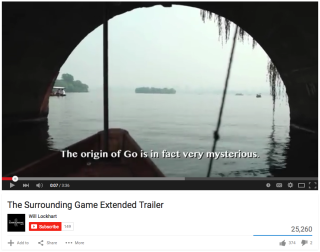 Aim of the Project
Our film, The Surrounding Game, is the first feature-length English documentary ever made about Go. By combining the game's ancient legacy with a modern journey of the first American professional Go players, we introduce North American audiences to the vast world of Go in a radically different way. Rather than provide more Go resources to the existing community, our goal is inspiration: sharing the magic of Go with non-players with a compelling, character-driven story. Just as Hikaru no Go had a decisive impact on the visibility of Go in the United States, we want The Surrounding Game to inspire audiences unfamiliar with the game.
Over the last four years, we've received volunteer support and hundreds of donations from the Go community outside North America. To leverage this enthusiasm for Go promotion, we are proposing the creation of an online distribution platform for the film on our website, www.surroundinggamemovie.com. By providing a digital download option in multiple languages available to anyone online, we can target non-player audiences who might otherwise never see the movie or be exposed to Go at all. Specifically, we will focus on making the film available to non-players audiences in Europe, Russia, and Central/South America where Go is less recognized and this project can make a powerful first impression.
Means of the Project
The film is shot in digital HD video suitable for theatrical screening. We plan to premiere at film festivals in North America in early 2016 and be available through local screenings and in small theaters in select US cities (contingent on a distribution contract). After festival competition, we plan to make the film available online as a digital download and DVD through our website as described in our proposal. In addition, we will employ Video-On-Demand through major outlets (iTunes, Netflix), and host public screenings in partnership with national Asian cultural organizations and events, such as the Cherry Blossom Festival in Washington, D.C., and the US and European Go Congresses. Online outreach through social media, Go blogs and online forums will be the backbone of our promotion outside North America, where we expect digital download to be most important.

Timeline
July 2015 - Finish editing
September 2015 - Complete the film
February 2016 - Premiere at film festivals
June-October 2016 - Local screenings
October 2016 - Worldwide online release
March 2017 - Foreign releases with subtitles


Geographic extension:
We want to create a digital distribution platform for "The Surrounding Game" documentary film on our website at www.surroundinggamemovie.com, making the film available for screening and Go promotion outside North America.
Results
The completion of the film will provide a lasting resource for promoting the game. By creating a modern story of Go in the context of its ancient history in Asia, the film is a time capsule of Go in the 21st century as the game grows in popularity and competitive ability outside East Asia. This decade is a dynamic time in the game's history, and perhaps the beginning of a new era; with the passing of Go Seigen, the spread of Go in the West and the birth of the American and European professional systems, the current crossroads of Go deserves preservation. In addition, we plan to digitize project media (selected footage, dozens of transcripts, audio recordings and film artwork and animation) and make it available for educational and non-profit use. Efforts to promote Go usually focus on teaching the game itself - an essential part of outreach, but limited to a fraction of the population interested in playing. While there are many people who would love playing Go, there are many, many more who can appreciate its depth and its beauty regardless of their interest in playing strategy games. The film embodies this complementary approach: exposing the depth and beauty of Go to people through a never-before-told story. Funding from the Iwamoto Award would be applied to one of the most important phases of the project: getting the finished project to new audiences outside the Go community and outside North America.
Public Exposure
Documentary films are an efficient tool for raising awareness of their subjects. Quality films with modest budgets have become an essential feature of both widespread social movements (Food Matters, Waiting for Superman, An Inconvenient Truth) and growing subcultures (Indie Game: The Movie, Wordplay, We Are Legion). Thanks to rapid growth in online distribution options (Netflix, Amazon, iTunes), this project is poised to have a much larger impact on the awareness of Go than would be possible a decade ago.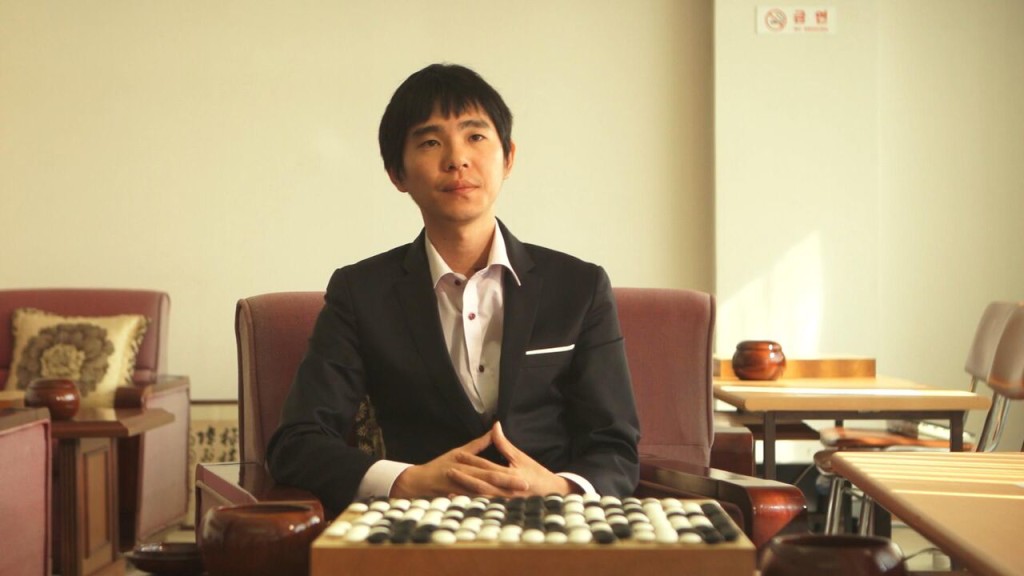 The film has already received favorable press in the Beijing Evening News, World of Weiqi (Weiqi Tiandi), and on GoGameGuru and other Go community publications. We have secured endorsements from several professional players including Chang Hao 9p and Hua Xueming 7p, longtime coach of the Chinese National Youth Go team. Over the last three years, we have developed an online following for promoting the film outside the Go community during public release. Thanks to our volunteer-developed website and regular Facebook activity, our monthly mailing list has over a thousand subscribers and following on social media is approaching two thousand people. In the months leading up to public release, we expect to reach over 100,000 people in the global Go community through Chinese and American social media, mailing lists, online Go organizations, and word-of-mouth promotion from the project's current supporters.
Human Resources
Directors Will Lockhart and Cole Pruitt are long-time Go players and co-founders of the American Collegiate Go Association. As active members of the American Go community, we recognize the ongoing challenge of spreading Go in the West despite widespread familiarity with other Asian traditions. We've spent most of the past three years working full-time on the film. As we enter the final stretch of story editing, our team includes a professional editor, animator, and several documentary film consultants. Will is the primary director/producer of the film. He recently assistant-edited the short film HAPPY BIRTHDAY with Bob Balaban, Suzy Elmiger and Peggy Rajski, and worked as a post-production assistant on the HBO pilot CODES OF CONDUCT, edited by Jay Rabinowitz and directed by Steve McQueen. Will is currently working on the film full-time.
Cole is co-director/producer of the documentary. After launching the project in early 2012 with Will, he jointly managed production and early post-production through the first cut of the film. Cole is currently a PhD student in nuclear chemistry at Washington University in St. Louis, and works on the film part-time. He manages finances for the American Collegiate Go Association and has worked closely with the Shanghai Ing Foundation in hosting annual public Go events.
Editor Richard Miron recently worked as assistant editor for David Teague on Roger Ross Williams' upcoming documentary LIFE, ANIMATED (Prod. A&E IndieFilms and Julie Goldman), as well as Sam Cullman, Jennifer Grausman, and Mark Becker's ART AND CRAFT (Academy Award Shortlist, 2015). He received his B.A. in Art from Yale University, where he shot, directed, and edited the short documentary "Lucky Ducks", which was awarded a Special Jury Prize from the USA Film Festival. Richard was a recent recipient of the IFP Marcie Bloom Fellowship in Film, and he is currently working on THE SURROUNDING GAME full time.
In addition to our core team, a number of volunteers have supported the project with website development (Ken Kansky, Chris Hsing), translation (international volunteer team), and providing archival material (David Doshay, Jochen Fassbender, Terry Benson and others). Several project backers have already offered to translate the film once complete; we are planning multiple subtitled languages for the final cut, including Spanish, French, Portuguese, German, Chinese, Japanese, Korean and Russian.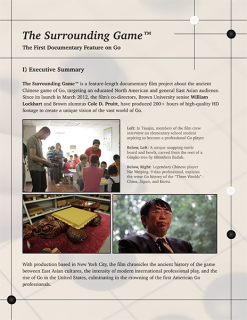 Financial Resources
The project's total budget is ~$110,000, of which we have raised ~$95,000. Funding has come primarily from crowd-sourcing through Kickstarter.com and our website ($40,000), grants from the Shanghai Ing Chang-ki Wei-chi Education Foundation ($15,000), individual private donors ($20,000), and personal financing ($15,000). In March 2014 The Surrounding Game was selected as a winner of the American Documentary Film Fund $5000 pitch contest. To complete a digital distribution platform for the film, we budget $1600 for web development work starting from our current website, $1200 of which would come from the Iwamoto Awards.
Perspective
We are currently working on a rough cut of the film, aiming to finish editing over the summer and complete the film by the end of the year. We have finances secured to finish the editing process and we are currently fundraising for the final steps. We are committed to finishing the project no matter the circumstances, but the money we raise now will improve technical work (sound mixing and color correction, among others) to match the quality of our footage and give the film the professional polish needed to succeed at festivals. We look forward to taking the film to as many festivals as possible in the coming year, and working to distribute it worldwide!
Wishes
We are so thankful to the Go community for sharing our vision and believing in this project, and we are almost to the finish line. This project would not be possible without the support of hundreds of Go players around the world who have lent a hand, from donors to volunteers, promoters, programmers, translators and guides. Continued pre-orders and donations through our website (surroundinggamemovie.com/en/contribute) and web development volunteers will provide important support for the film as we finish editing. We want to coordinate directly with major Go organizations (the IGF, EGF, and AGA/AGF) during public distribution and to host screenings at major Go events. We encourage any person or organization interested in hosting a screening to contact us directly at The Surrounding Game.
Additonal Comments
Thanks for providing this resource to the Go world! We're happy that Mr. Iwamoto's legacy continues promoting Go worldwide.