Project Description
Carolin is a primary school teacher and Gunnar a Go enthusiast who has started publishing books on Go in German some time ago. After having organized several events at primary schools to teach children Go and Atari Go, we arrived at the idea of addressing children and others indirectly instead and make them aware of the game of Go through other means. A children's book telling an exciting story with big and colorful pictures would just be the right frame to familiarise children with the rules of Go and motivate them to try the game themselves. Such a book also allows teachers to use it in school.
About the story and the book
Two children, calling themselves Ata and Ri, have summer holidays, but it is pouring rain outside. So they visit the old fisherman who always has great ideas what to do. This time around, the fisherman proposes that each of them finds an item in the cottage, with which they will then create a game. The girl Ata brings shells, Ri the boy black stones and the fisherman has a piece of an old net. Ata likes the boy's stones and wants some of them, but Ri denies and says: "You have to play for them!" So they invent the rules of capturing stones by encircling them, using the fishingnet to place the stones on, but always on the knots of course!
Once they start playing, the storm outside develops and suddenly a strong whirlwind lifts them into the Realm of the Stones. Here they are not welcomed at the beginning, as they disturb the game. To be allowed to go home again, they are asked to answer three problems to prove they have understood the rules properly. Will they indeed succeed?
Yes, you guessed correctly, at the end of the story the game is named after their inventors: ATARI.
The book includes a short instruction on how to make your own playing board and be creative concerning the stones: anything will do, from shell, stones, buttons to old coins. This way children are animated to make their own playing material and can identify themselves with the game.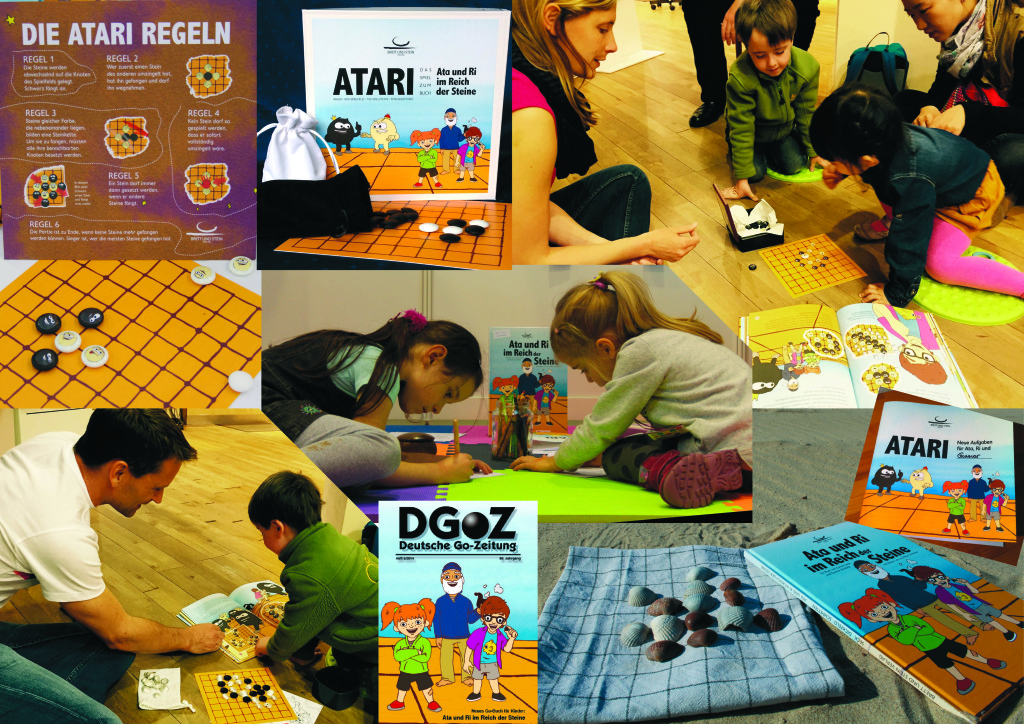 The concept
The idea is that children read the book, solve the three problems together with the heros of the story, look for appropriate playing material themselves and start playing Atari Go.
Of course it is much more fun if adults join in and read the book aloud, looking at the big pictures and solve the problems together with the children.
Teachers can use the book to cover classes where they have creative leeway. The concept of reading to children in groups can not only be applied to schools and kindergarden, but also to after-school care, events in libraries, book shops, birthday parties and much more. Teachers do not need to know much about Go as everything is explained within the story. Just follow the adventure!
Several ancillary items have been created: an additional workbook with easy exercises to strengthen the understanding of the rules (also to support teachers) and a 9x9 game set.
Main: Children's book.
Important: People that are happy to read books to children.
Accessory parts: Workbook, special 9x9 boards and sets, real shells collected from the beach.
Timeline
January 2014 - Start of the project.
April 2014 - Contracting the illustrator and graphic designer.
August 2014 - Contracting a printing company.
28 October 2014 - Publishing ("go live").
Running Phase
Since November 2014 - Marketing events for the book and sessions with children.
Geographic Extension
German speaking countries: Germany, Austria and Switzerland. Mainly schools, after-school care, but also book stores and libraries.
Results
- Publication of the book and starting of sales and events.
- The book is available in online shops and can be ordered in any book store using ISBN.
- Reading/workshop in primary schools (by the authors and primary school teachers).
- Reading/workshop in kindergarden by different people.
- Public reading with children in book stores (by the authors).
- Reading & playing on game fairs in Munich and Stuttgart.
- Scheduled readings with children (after-school groups) in libraries (by authors).
- Reading/workshops in primary school by primary school teacher without prior Go knowledge.
- First workbook published and distributed to interested target group (mainly teachers and parents).
- Very positive and stimulating feedback from children.
- Very positive feedback from parents and teachers (including Korean family living in Germany).
- Loads of nice pictures with children playing Atari Go.
- No training sessions needed for teachers to promote Atari Go in schools.
Coolest Result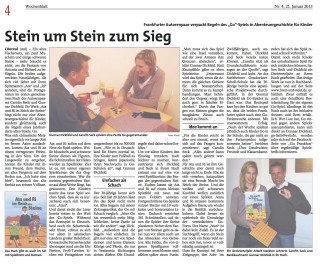 Public Exposure
Announcements on various websites, go bulletin of the German Go Association and local newspapers.
Human Resources
Creation of the book: Carolin and Gunnar as authors, Jan-Peter as illustrator.
Support: Lars and Steffi for graphic design and text consultancy.
Publishing: Gunnar with his publishing company.
Running Phase
Sessions of Reading: Caro, Gunnar, Felix (age 8), Rainer, Sarah and others.
Advertising/making contacts: Philipp, Martin, Matthias, Christiane and many others.
Feedback from Sarah S.
"I am a primary school teacher who has never played a game of Go before I met Caro and Gunnar. They introduced their book to me and suggested to read and play with a group of pupils in my school. On first of June I had such opportunity to fill an hour of a day of special activities in my school. I gave the story of Ata and Ri a try.
It took not much preparation and finally I got two groups of ten pupils (one hour each) with whom I read the book. We solved the three problems Ata and Ri were given by the Stones before progressing with the story. Afterwards the kids did some easy exercises from the workbook and now nobody could stop them to try the game themselves. It was a great project for me and the pupils. We had a lot of fun. I will use the book and the game again and will recommended it to other teachers."
Financial Resources
Financial budget was provided by Brett und Stein Verlag (owned by Gunnar) as sponsorship for printing, illustrations, editorial support, listing in distribution channels, initial advertisement.
Perspective
- Growing awareness of the book leading to:
- growing number of sessions with children reading the book and playing Atari Go
- growing number of school teachers incorporating the book and concept in their work
- Continuous promotion through contact session
- Creation of additional work books for primary school focusing on specific subjects like German, mathematics, English making use of the children book as a basis to support teachers in school
- Second volume, where Ata and Ri meet the stones again and learn about fencing territory :-)
Possibilities of copying this project:
Since the book is already available (in German) the starting point is easy: take the book, take a group of children and start reading together!
Wishes
- More human resources/support to have more session with children in schools, libraries etc.
- Financial support/budget could be used in different ways:
- new illustration for the ancillary work books
- for advertisement, e.g. in magazines focusing on children education, teachers and parents
- for advertisement in book shops
- for a dedicated website/app to bring children together who have read the book and want to play together
- Future: maybe translation into other language.
Winning of the Iwamoto award alone would increase the reputation of the book and its distribution to the target groups.
Additonal Comments
Copies of the full book can be provided to the Jury.